Recent Arrests Make for Murky Fantasy Situations
Jul 26, 2012 -- 5:18pm
I can't pretend to be a fantasy football expert. As much I want to be, I'm just a football starved fan who happens to spend his free time pondering this year's sleeper running back. All of his free time.
I've played this beautiful thing called fantasy football half of my life, and these entries are simply my advice. I don't claim these to be fact. I will sometimes be wrong, and while I will most likely place the blame of the wrongness on some thing aside from myself, it happens. Rarely.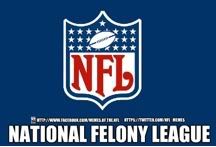 A string of offseason arrests has put a black eye on the NFL and sucker punched many owners around the league who partook in early fantasy leagues. 3 of these outlaws in particular are big names in fantasy circles this year.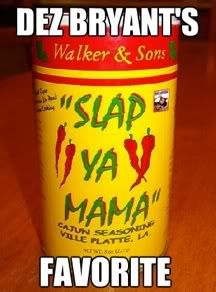 Dez Bryant- Most people have now heard about Dez slapping his mother, my personal favorite part of the story is him leaving his mother's house in a car whose lisence plate read "BAILME." Most law caunsious type people seem to think that Dez will get off and his legal troubles will be minimal, but he could still face the Roger Goodell-hammer because of his previous run ins with the law. I don't think he would face more than a one game suspension, at most, but in the event that a lengthy suspension does come down, I would drop him down in my rankings below recivers like Jeremy Maclin and Stevie Johnson. While a suspension for Dez seems to make Miles Austin a much more valueable player, he would also attract much more attention on the field. I see Jason Witten as the man would would most benefit from Dez missing time.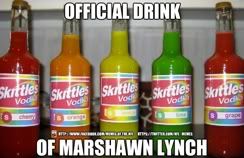 Marshawn Lynch– Weather it's driving a golfcart on a football field, running over a lady dancing in the street, or now driving under the influence, it's pretty safe to say that Beast Mode should be avoided around vehicles. Marshawn, as opposed to Dez, has already faced league suspension before, missing 3 games in 2009. Meaning his Goodell leash is much shorter. A multigame suspension is a possibility, and depending on length, could drop the Skittle man below other risky runners like Michael Turner or Reggie Bush. Rookie Robert Turbin would be in line to receive the lion's share of carries and would be a decent, Toby Gerhart-esqe player to target. If your league rewards for return yardage, Leon Washington would also be a decent option.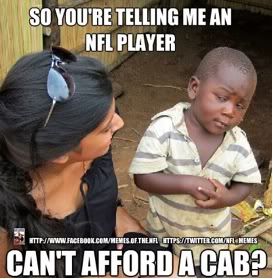 Kenny Britt- I had such high hopes for little Kenneth last year, and he was living up to them until a torn ACL ended his season in week 3. He had put up 270 yards and 3 TDs coming into that game. I came into this year thinking he could heal, and be a receiver that falls to me, and I would snatch him up with not a moment of hesitation. But then he had to go and pull a Lohan. He's had 7 run-ins with the law since being drafted, and will almost certainly receive a suspension, giving Baylor rookie WR, Kendall Wright, the ability to step right in and contribute. It's almost like Kendall has a supernatural ability to be in the right place at the Wright time. But much to my chagrin, Kendall will still not be much more than a late round flier. Nate Washington and Jared Cook stand to gain from any Britt absence in an offence looking to get back to the ground game.
Return to: C.Floyd's Fantasy Football Blog